An outdoor concert at Liberty Plaza in downtown Ann Arbor Saturday night will feature the talents of local musicians and benefit a program that helps patients at C.S. Mott Children's Hospital.
The proceeds from the concert, organized by Skyline High School senior Nikki Kamouneh, will go to the hospital's Bedside Music Program and that's it's being organized by a high school student.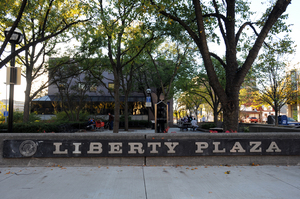 Melanie Maxwell | AnnArbor.com
Kamouneh said a strong love for music and a desire to help those in need were two of her main motivations for organizing this evening's concert. The idea stemmed from a senior project that required students to execute a change in themselves or their community and to create a narrative about it.
"At first I wanted to learn to play piano, as many of my peers seemed to be either learning how to cook or play a new instrument," said Kamouneh. "But after talking to my friends and family, I realized I needed to broaden my horizons, and extend the change to not just me, but to my community."
Kamouneh said the recent death of a family friend from cancer and the loss of another friend made her choose Mott as the organization to benefit from the concert.
Hannah Ashmore, an event planner and fundraiser for Mott, said the Bedside Music Program is part of the Gifts of Art fund, which is funded through philanthropic efforts.
"Musicians go to rooms throughout the hospital to literally visit the bedsides of patients," explained Ashmore. "The soothing, relaxing qualities of music are well-known and this program is a welcome piece of the inpatient puzzle."
Kamouneh has many connections to local musicians which made a concert a natural fit for her project. All the bands are local and include the duos Janet Cannon and Oliver Deperaita, Brandon Kemp and Jamie Seely, Zach Stoner and Jake Martin and the band Creal. "This event would not have been possible if not for the support and guidance of my teachers, my peers, and my family," said Kamouneh, who put up fliers about the concert around her school and neighborhood and in downtown Ann Arbor.
Kamouneh hopes to raise at least a couple hundred dollars through donations at the event at Liberty and Division streets. She is not charging admission.
Lisa Carolin is a freelance writer for AnnArbor.com. Contact the news desk at news@annarbor.com or 734-623-2430.